Firewood Cutting and Wood Chip Collection Information
Fort McCoy offers a firewood cutting program that allows individuals to purchase firewood permits to cut firewood in designated firewood cutting areas.
New Announcements:
Firewood cutting regulations available:

Fort McCoy Regulation 200-4

Purchase firewood cutting permits online through your iSportsman account.
Firewood cutters are required to Check-in/Check-out when cutting.
Small Lot Timber Sale - Small lots of timber (firewood, pulpwood, logs, etc.) will be offered on a bid basis by Ft McCoy. Click here for more information.
Firewood Cutting Season Dates:
The Fort McCoy firewood/wood chip season shall be open from 1 January through 15 April and 1 September through 31 December each year except during the annual Gun-Deer season in the training areas.
The season will be open all year in the Cantonment Area or in other specially designated areas such as the Stump Disposal Site located in training area B-31. The Fort McCoy Firewood/Wood Chip season can end at any time with Fort McCoy discretion.
Two Types of Firewood Cutting Permits Available:
Permits may be purchased by any person 18 years of age and over except those barred from Fort McCoy or who are under suspension for violating any Fort McCoy Natural Resource Regulation.
Daily Firewood Permit: Daily permit cost is $10.00 per calendar day. The calendar day is defined as the date listed on the permit.
30-Day Firewood Permit: 30-Day permit is $50.00 for 30 consecutive days. The 30 day permit is valid for 30 days including the initial day. (Note: The 30-Day permit may be shorter than 30 days in training areas if purchased over the Gun-deer season.)
How to Purchase a Firewood Permit:

Permits are available online through your registered Fort McCoy iSportsman account by credit or debit card. (Click on the Access and Permit tab up in the menu bar for more information on how to create an account and purchase permits online.)
Due to COVID-19 Coronavirus the Permit Sales Office are taking customers by appointment only. Customers who are planning on purchasing firewood permits at the Permit Sales Office are asked to call the Permit Sales Office to schedule a time. To schedule an appointment please call 608-388-3337 and leave a message. The Permit Sales Office (Building 2168) will have limited access and is available upon scheduled appointment. As federal/government agencies continue operations, please understand that most of our staff are teleworking and may have limited access to files and delayed online connectivity. We are still available to serve you and apologize for any inconvenience this may cause.
Firewood permits also must be purchased by the permit holder (or spouse) Cash and credit/debit card is accepted for over the counter sales at the Permit Sales Office. No checks accepted. Customers will need to obtain an Access Pass from the Visitor Control Center (Bldg 35) prior to entering the Cantonment Area if planning on purchasing a permit from the Permit Sales Office.
The permit holder is allowed one vehicle with or with out a trailer and helpers to cut, split, and/or load the firewood while in the presence of the permit holder. Permit holders are highly encouraged to have helpers in case of accidents or other emergencies. Permits must be in possession of the permit holder when cutting/collecting and/or traveling on Fort McCoy property.
Helpers may have a separate vehicle for personal transportation but are not allowed to load firewood or wood chips into that vehicle and the helpers are not allowed to cut or hand split wood without the permit holder present.Cutters are authorized to cut and remove wood only on the day or during the 30 days authorized by the permit. Permits may be purchased in advance of the date requested. Fort McCoy firewood permits are non-transferable and non-refundable.
Firewood Cutting Locations and Limits:
Firewood will be cut, and wood chips collected in authorized areas only. Paint marked trees will not be cut unless authorized in writing by the installation Forester. A load is limited to vehicles smaller than a semi-tractor and semi-trailer. The number of loads per day is limited to one vehicle (with or without a trailer) and as many loads that can be hauled on the specified day. Permit holders and their helpers are prohibited from bringing off-road vehicles (not to include state licensed 4X4 pickup trucks) and equipment onto Fort McCoy for the purpose of collecting firewood or wood chips. This equipment includes, but is not limited to; tracked and wheeled tractors, skid-steers, all-terrain vehicles, utility-terrain vehicles, and firewood splitters. Permit holders are prohibited from storing firewood on Fort McCoy property. All firewood cut by the permit holder must be removed from Fort McCoy property or the firewood will be considered abandoned, i.e., don't cut more firewood than can be hauled out in a load.
Current firewood cutting locations (Click on location to open map):
Stump Disposal Site (located in training area B-31) - Check Game Line for B-31 status.
Additional maps coming soon for the 2020-2021 firewood cutting season starting September 1, 2020.
Remember to check the Game Line daily for area closures.
Wood to be cut or collected:
Only standing dead trees and trees lying on the ground will be cut in the training areas or otherwise noted on the firewood cutting maps. Only down trees may be cut in the Cantonment Area. However, special areas of live trees may be authorized in writing by the installation forester. The cutting of unauthorized live trees or trees (dead or live) outside the designated area, will constitute a violation. Areas of commercial firewood or timber sales are off limits to firewood permit holders. This wood is the property of a person or corporation and any removal constitutes theft. Only wood chips piled from debris grinding operations may be collected.
Checking the Game Line: Make sure the area you are cutting is open on the Game Line.
It is the responsibility of the individual permit holder to check the Game Line and to sign-in/sign-out for firewood cutting and wood chip collection using iSportsman at (866) 277-1597, online at www.mccoy.isportsman.net and click on Game Line from the menu bar, or through the kiosk located at the Hunter Information Point (HIP) for updates, changes, and/or temporary regulations to the activities associated with this regulation. Game Line information must be checked daily to ensure that the activity or firewood cutting area has not been restricted because of unforeseen mission requirements. Upon sign-out, all cutters/collectors will report the amount of firewood or chips taken off the installation through the iSportsman system.
Cutting in the Cantonment Area:
All visitors entering the Cantonment Area of Fort McCoy must obtain a visitors pass at the Main Gate (Bldg 35) if you do not have proper ID access. Questions related to visitor passes should be directed to the Fort McCoy Police at (608) 388-2266 or the VCC at 608-388-4988.
Requirements for Check-in/Check-out:
All firewood cutting and wood chip collecting permit holders are required to sign-in/sign-out daily by logging into their iSportsman account either by calling iSportsman at (866) 277-1597, online at www.mccoy.isportsman.net, or through the kiosk located at the HIP. If calling the iSportsman phone number, you will be required to use your iSportsman permit number along with your 4-digit PIN number. Firewood cutters/collectors permit holders are required to select one of the firewood training areas in which they intend to enter.Only one training area be selected at a time. Firewood cutters/collectors may change training areas by signing-out of the initial training area they signed-in for and then signing-in for the next training area they will be using.
The HIP (Hunter Information Point), as identified on the Fort McCoy Firewood Collection Maps and iSportsman website will provide information to firewood cutters/collectors as outlined in this regulation. The HIP is located south of Highway 21 at the intersection of South J Street and Highway 21 and will have firewood maps available.
Go to the Access and Permit page from the menu bar for details on how to Check-in/out of the iSportsman system. You must have an iSportsman account prior to using the Check-in/out system.
Activity Information Card:
All recreational participants/permit holders within a vehicle are required to display a Fort McCoy Activity card. The card must show the iSportsman permit number for each permit holder associated with the vehicle for that given days activity. The Activity Card must be placed on the vehicle dashboard and be easily readable through the windshield from the outside of the vehicle. The card should not be obstructed by any other papers, materials, or items on the dash or windshield. Hand printed information must be legible and large enough to easily read thought the windshield. Click here for template.
Firewood Cutting Safety: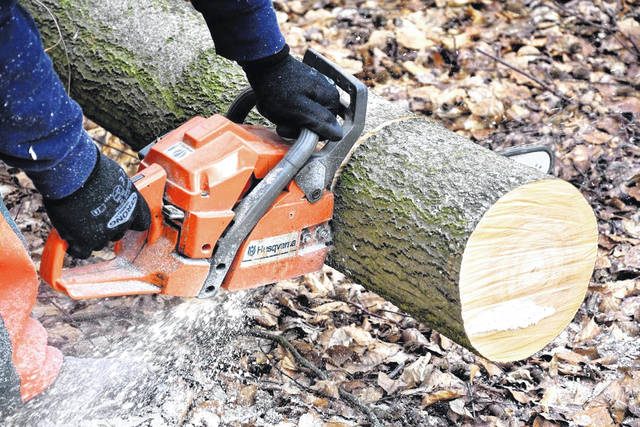 Chainsaw operation and felling dead trees is an inherently dangerous activity. All firewood cutters are highly encouraged to use personal protective equipment which includes: hardhat, eye protection, hearing protection, chainsaw chaps or pants, steel-toe boots, and leather gloves. Firewood cutters are also encouraged to have a helper assist with all aspects of firewood cutting and hauling. Helpers cannot use a chainsaw on Fort McCoy unless they are 18 years old orolder.
Fort McCoy DES is responsible for providing fire and medical emergency response, enforcement of law and regulations, and provides 911 emergency communications support. Call 911 for all emergencies and state you are located on Fort McCoy; for non-emergencies and/or to report a violation, call (608) 388-2266.
Contact Information
Permit Sales Office
(608)388-3337
Email:usarmy.mccoy.imcom-central.mbx.dpw-permit-sales@mail.mil